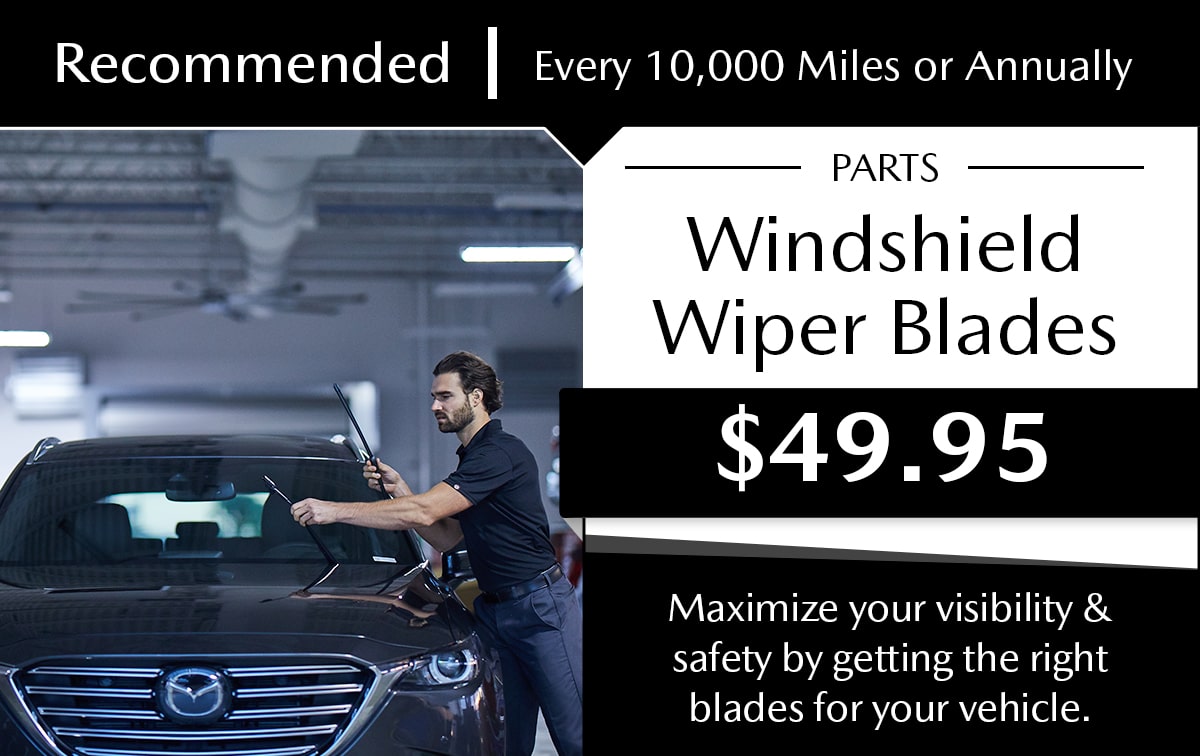 Windshield Wiper Blade Replacement Service With North End Mazda
Unlike many vehicle parts, windshield wipers don't typically need replacement based on a certain amount of mileage. Still, they tend to either wear out or become brittle after a certain amount of actual time. The exact amount of time depends on local weather conditions, where the car is parked at night, and how often it's on the road or parked in the open during the day. On average, wiper blades will be replaced about every 6-12 months, usually while the car is already at the dealership for annual inspections or other regular maintenance.
---
What Are the Best Wiper Blades?
Another consideration in the length of time before new blades are needed is the quality of the last blades installed. Generic blades can be bought online or at an auto parts store, and they are going to be less expensive to purchase than good quality blades. However, the generic ones are going to wear out sooner and likely cost more in the long run, or at least wind up costing the same and the driver just has to have the inconvenience of changing the blades themselves more often than would be needed if they just used high-quality blades in the first place. With that said, the best blades are the ones that fit the vehicle in terms of the windshield size, and in some cases, a car might require specialty flat or hybrid blades due to how the engineer designed them to be attached.
What Happens With Old Wiper Blades
An issue people don't always recognize with old wiper blades is just how ineffective they can become. As the rubber becomes brittle, it doesn't wipe the windshield wiper as well, and it can chip, meaning it doesn't even wipe off the entire area it was meant to. This means poor visibility in the rain when driving is already more dangerous than on a sunny day. The issue is how it's easy to forget such a problem and postpone replacement, which is why a technician is likely to go ahead and recommend new blades if they are getting old and the car is already in the shop for some other reason.
---
Where to Find Mazda Wiper Blades in Lunenburg, MA
The full-service shop at North End Mazda provides maintenance and repairs for Mazda and other makes of vehicles in Lunenburg and the surrounding areas of Fitchburg, Leominster, Gardner, and Ayer, Massachusetts. Our technicians are trained and certified, we use only genuine OEM parts, and our staff is courteous and knowledgeable. Give us a call or schedule your next vehicle appointment online so we can get you back on the road safely and efficiently.
 Schedule Service