Welcome to North End Mazda
2023 Mazda CX-30
Lease: $301/mo for 36 mos. $2,999 due at signing
2023 Mazda3 Sedan
Lease: $348/mo for 36 mos. $2,999 due at signing
2023 Mazda CX-5
Lease: $299/mo for 36 mos. $2,999 due at signing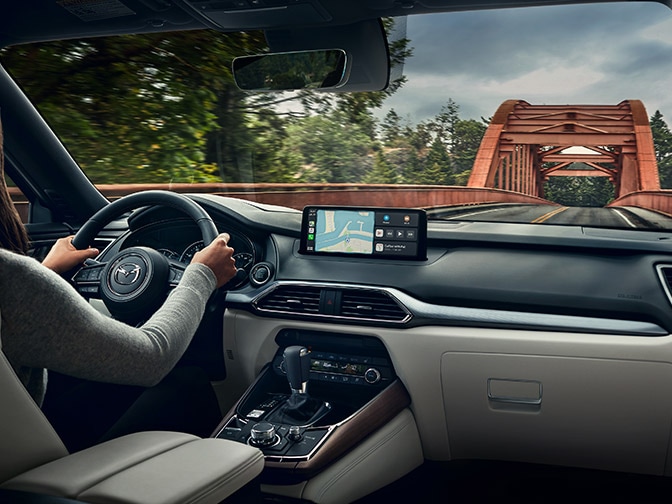 How to purchase online
Here at Mazda North American Operations, we understand your time is valuable. That's why we provide options to make your next purchase or lease more convenient. if you prefer to do the process from home, you can start with a trade-in appraisal or a finance application. Once you select the vehicle you're interested in, you will have options to adjust your payments and purchase online. You can even get your vehicle delivered to your home! If at any point you decide you're more comfortable with one of our teammates by your side, we're here to help. Stop in any time we're open to pick up where you left off.
New & Used Mazdas For Sale In Lunenburg, MA | North End Mazda
If you're looking for a new Mazda dealer, then you've come to the right place. North End Mazda is your local Mazda dealership, located in Lunenburg, MA. We have a wide selection of new and used cars for sale, along with excellent services for your convenience.
Find the New or Used Car That's Right for You Near Worcester
We have a wide selection of new Mazda vehicles for sale at our dealership serving Lowell, MA. These vehicles offer sporty styles that you'll love to show off, along with sharp handling for an exciting ride and high-tech features for your enjoyment. We have a variety of different Mazda models for you to choose from, and we think that all kinds of drivers can find the right fit.
You can also find a variety of used cars for sale. This includes used Mazda vehicles, along with a variety of other makes and models as well. Each one has been carefully inspected to ensure it's in great shape, and each one is available at a competitive price. If you're looking for even more peace of mind, be sure to check out our certified pre-owned Mazda vehicles. And for more affordability, check out our bargain vehicles.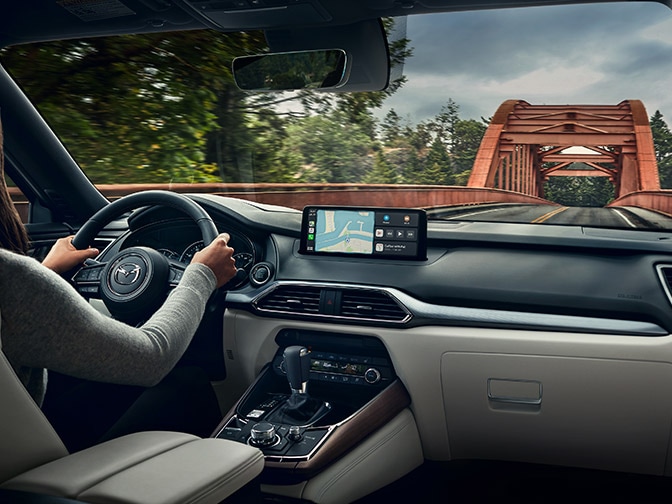 Buying a New Car is Simple at Our Dealership Near Lowell
Buying a new car should be an enjoyable experience. At our dealership serving Shrewsbury, MA, we work hard to make your car-buying experience hassle-free. We offer an online CarFinder tool that you can use to locate the vehicle that's right for you. We can also help you trade in your car for a new one. Then, when you're ready, we can help you get the auto financing you need. We offer all kinds of great auto loan and lease options, and we will gladly help you get the auto financing that works best for you. You can start the financing process by applying for financing right here on our website.
Keep Your Mazda in Great Shape
At our Lunenburg dealership, we have a top-notch Mazda service center, where we can take care of your auto maintenance and repairs. Our skilled technicians know just how to care for your car, so you can count on us to help keep your Mazda in great shape for many more miles. We offer valuable service special coupons for most services like oil changes, wheel alignments, tire rotations and much more. We will work hard to make sure your car is in excellent condition, so you can enjoy a great ride.
Visit Our Lunenburg Mazda Dealership
Whenever you're ready, come on over to our Lunenburg, MA Mazda dealer serving Wellesley, MA. At North End Mazda we will gladly help you find the vehicle that's right for you, then help with all your other Mazda needs, from financing to auto service. Feel free to visit us at any time and we'll help you get started.
Get in touch
Contact our Sales Department at

:

(888) 635-6479
Monday

9:00am - 7:00pm

Tuesday

9:00am - 7:00pm

Wednesday

9:00am - 7:00pm

Thursday

9:00am - 7:00pm

Friday

9:00am - 6:00pm

Saturday

9:00am - 5:00pm

Sunday

Showroom Closed - Online Shopping Available!
How to purchase online
Lunenburg, Massachusetts, has some of the most pleasant roads to drive along. Nonetheless, you still need the best possible car to ensure you have a seamless experience and remain safe in adverse weather conditions. A Mazda is among your best vehicle options to navigate any issues you might encounter when driving in Lunenburg and cities further afield. 
The word Mazda in the Japanese language means wisdom. Founded in the 1920s, the company initially only focused on three-wheeled trucks. A sports car was the company's first passenger vehicle - the Cosmo Sport, which was made in 1967. From the start of its passenger vehicle production, Mazda has focused on giving consumers cars that are fun but safe to drive.
Moreover, Mazda has some of the most affordable vehicles on the market, so they can fit within most people's budgets. The company is constantly researching ways to make its vehicles part of a greener earth, so you can play a role in eco-conservation with a Mazda.
When shopping for your car, you might be overwhelmed by the range of choices available to you. Below are the main classes of Mazda cars to help you match a model to your needs.
Sedans
The term sedan refers to a vehicle with a fixed roof, two rows of seats, and three separate compartments for the cargo, people, and engine. Sedans are renowned for their fuel efficiency, unparalleled aerodynamics, affordability, and excellent handling. Most of them can comfortably seat five passengers, making them ideal for small families. If a sedan sounds like your ideal car, here are some Mazda sedan models that may suit your needs:
Mazda sedans offer an expert balance between ride quality and performance, and they have well-equipped, upscale cabins. Their exterior designs are sporty, sophisticated, and iconic, making them distinctive on the road. Mazda's driver-assist technologies include advanced features such as adaptive front lighting and rear vehicle monitoring. The Mazda3 comes in hatchback and sedan options. The hatchback is the better choice when driving on city roads with tight turns and narrow lanes, while the sedan is ideal for long-distance trips.
SUVs
A sport utility vehicle (SUV) is one that sits high off the ground and typically has rugged styling and four-wheel drive. Though the term is sometimes used for all cars with lots of passenger room and storage capacity, one thing that differentiates SUVs is their suspension, which lifts them higher than other cars. This allows you to see roads more clearly because of your elevated seating position. This also makes SUVs good for ground clearance to navigate deep waters. SUVs have exceptional handling and grip for wet roads. Additionally, they offer optimal comfort in the cabin.
Mazda has several models in its SUV range, including the following:
The above Mazda SUV models offer engaging drive qualities, impressive fuel economy, top-notch safety standards, and surprisingly pleasant cabins for their low prices. If you're looking for a car for your growing family, the above SUVs are probably your best choices. The CX-9, for instance, can comfortably seat seven people.
Sports Cars
A sports car is a low, often small, two-passenger vehicle designed for easy maneuverability, high-speed driving, and quick responses. With a sports car, you benefit from exceptional performance and associated prestige. The suspension, handling, and other features of the vehicle are all perfected to handle its speed without compromising your safety.
Here are the sports car models from Mazda:
Mazdaspeed3.

MX-5 Miata.

MX-5 Miata RF.

RX-8.
The above sports cars have sophisticated cabins and exceptional handling dynamics. They're also among the best-looking vehicles ever produced, and they're undeniably fun to drive. If you want to modify a Mazda sports car, the sky is your limit. The MX-5 Miata RF and MX-5 Miata are convertibles that will prove best for driving in Lunenburg's summer heat.
Electric Cars
Electric cars are becoming quite popular with the increasing focus on a greener Earth. These are cars that have batteries in place of gasoline tanks and electric motors rather than internal combustion engines. They have no tailpipe emissions and can be recharged with a standard 120V outlet, depending on how far you typically drive daily.
The MX-30 is the first all-electric vehicle from Mazda. It's a compact luxury crossover SUV, and its interior comprises renewably sourced materials such as fibrous textile upholstery made from recycled plastic and cork trim. The MX-30 is reliable, safe, sporty, and high tech. Currently, the MX-30 is Mazda's only electric vehicle, though Mazda plans to expand its selection.
MPVs
A multi-purpose vehicle (MPV) is also called a people carrier because that's the focus of its design. It is a tall, box-like car designed to have as much interior space as possible. Most MPVs allow you to remove or fold down the back seats to prioritize storage or passenger capacity, depending on your needs. If you're looking for a car for a large family, consider the Mazda5.
Compared to MPVs from other brands, the Mazda5 has reduced noise levels, lower carbon dioxide emissions, and more storage capacity. It also has a short wheelbase that gives it a better cross-country driving range and makes it easy for you to steer out of a skid. With its stylish yet practical design, this vehicle can comfortably seat six or seven passengers and hold plenty of cargo.
Hopefully, this guide has pointed you to the best car in Lunenburg for your needs. When shopping for a new vehicle, do not solely base your decision on the price. This can place you at risk of getting tricked into buying a cheap yet problematic car that quickly becomes too expensive to use. Work with a dealer that sells quality cars at the best possible prices.
If you want the best Mazda dealer around, come to North End Mazda. We are located at 747 Chase Road in Lunenburg, Massachusetts. We offer more than just pre-owned and new Mazda cars - we can also arrange financing for your purchase and service your vehicle to keep you going long after you've made your purchase. Contact North End Mazda today to learn more about any of the above cars and more.